Indonesia Country Profile
Country Key Data
Government Type : Republic
Current President/Head of State : President President Joko Widodo (2014 – present)
Capital City : Jakarta
Surface Area : 1,904,569 Sq. KM
Total Population : 251.160.124 (Estimated July 2013)
Climate : Tropical. Hot and humid. More moderate in highlands.
National Language : Bahasa Indonesia, English, and local dialects.
Unit of Currency : Indonesian Rupiah (IDR)
Ethnic Groups :
• Javanese (40,6%),
• Sundanese (15%),
• Madurese (3,3%),
• Minangkabau (2,7%),
• Betawi (2,4%),
• Banten (2%),
• Banjar (1,7%),
• other or unspecified (29,9%) (2000 census)
Age Structure :
• 0-14 years: 27%
• 15-24 years: 17,1%
• 25-54 years: 42,2%
• 55-64 years 7,6%
• 65 years and over: 6,4%
GDP (purchasing power parity) : US$ 1,212 Trillion (2012 estimated)
GDP (official exchange rate) : US$ 894,9 billion (2012 estimated)
GDP (income per capita) :
Inflation Rate : 5,9% (January 2013)
Main Resources or Industry : Petroleum, palm oil, tin, nickel, timber, rubber, bauxite, copper, coal, gold, silver, textiles, apparel, footwear, chemical fertilizer, food and tourism.
The Country and its Roots
Indonesia is composed of seventeen thousand islands that stretch over five thousand miles along the equator. The Malay peninsula and Indochina are situated to the north-west, and the continent of Australia lies due south. Northward lie the Philippines and Micronesia.
The world's largest archipelago, Indonesia's constellation of islands straddles the divide between the Asian and Australian continental plates. As a result, the islands offer a stunning variety of topographies and ecologies Mist-shrouded volcanoes and mountains, unexplored rain forests, thousands of miles of beaches, and endless offshore reefs support a dazzling abundance of wildlife, making Indonesia an ideal destination for adventure and eco-travel.
The great majority of the country's constituent islands are of negligible size, but it does hold--wholly or in part--several islands that are enormous. These include Sumatra, Kalimantan (formerly Borneo, and shared with Malaysia),Sulawesi, and Java. The Indonesian state of IrianJaya occupies the western half of New Guinea, which is the world's second largest island (behind Greenland). The most populous of the Indonesian islands by far is Java, home to the sprawling capital city of Jakarta. Other notable islands include the exotic, popular resort island of Bali, Lombok, Catholic Flores, and Komodo, home of dragons.
There are two discernible seasons in Indonesia: the dry season, which extends from June to October, and the rainy season, which lasts from November to March. Both are hot. The coastal regions, however, are often cool, and in the mountains the air is often chilly.
As early as the seventh century, powerful Buddhist and Hindu empires challenged each other for supremacy in Indonesia: the Buddhist Srivijayawere centered in Sumatra, while the Hindu Mataram located their capital on Java. The rich architectural and cultural legacy that remains from that time forms the basis for Indonesia's national identity. In the thirteenth century, the Hindu Majapahit of Java faced a strong challenge from Muslim forces, which spread south from the Malay peninsula. Slowly losing ground, the Hindus retreated to Bali, where they remain today. The rest of the islands became Muslim, and various sultanates were established.
The sixteenth century marked the arrival of the Portuguese, the first Europeans in Indonesia . Although the Portuguese broke the Islamic hold on Indonesia, they were eventually displaced in turn by the Dutch, who named the area the Dutch East Indies. Although a revolt led by Javanese Prince Diponegoro in 1825 briefly threatened Holland's empire, Dutch rule continued until W.W.II and invasion by the Japanese. The Indonesian revolutionary nationalist movement, led by Sukarno, welcomed the Japanese as a potential force of liberation, and at the war's end the movement embarked upon a bloody war of independence against the restored Dutch rule. Although the war dragged on for four long years, from 1945-1949, the independence movement was ultimately victorious.
Turmoil characterized the first decade of Indonesian independence, until in 1957 Sukarno unified power in his own person. An attempted coup against Sukarno in 1965 brought renewed turmoil; however, the army led by General Suharto restored order and initiated a purge of communists. Eventually Suharto eased Sukarno out of the presidency and assumed office himself. Suharto's rule ushered in a period of stability and economic development.
Indonesia's varied past has produced a remarkable array of vibrant cultures,making it one of the world's most diverse and fascinating travel destinations. Today, Indonesia is the fifth most populous nation on Earth, with over 180 million citizens comprising over 300 ethnicities. Most Indonesians are of Malay or Polynesian descent, though the country's history has produced minority populations from India , China , Arabia, and Persia , as well as from European colonial powers such as Portugal , Holland , Spain , and England .
Although primarily a Muslim nation, Indonesia is marked by wide religious tolerance. Hinduism thrives on Bali, and Christianity has a significant presence on Flores, Timor, and several other islands. Indonesians speak numerous languages and dialects, but the common language is Bahasa Indonesia. English and Dutch are also widely spoken.
Economic Performance
In general, Indonesia's GDP has a strong history of maintaining growth rate around 6%, however since 2011 it shows slightly declining trend from 6,5% to 6% for the estimated GDP for year 2013. During first quarter of 2013, Indonesia has GDP growth of 6,02% was the lowest recorded in the past 2 years and also performed below the government target of 6,2-6,3%. Indonesia compared to other emerging countries in South East Asia considered to be relatively stable. Household consumption makes up 55% of GDP, Bank Indonesia Consumer Confidence Index shows an increase from 116.2 to 116.8 for the first quarter of 2013.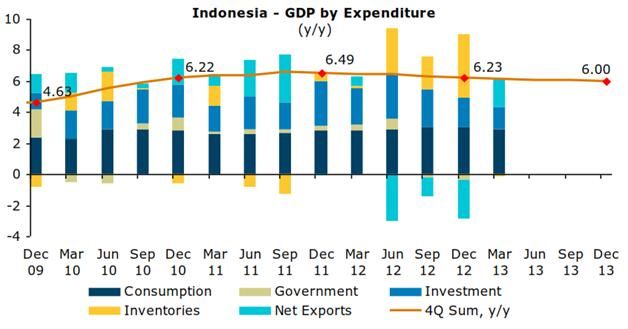 Source: ANZ Asia, May 2013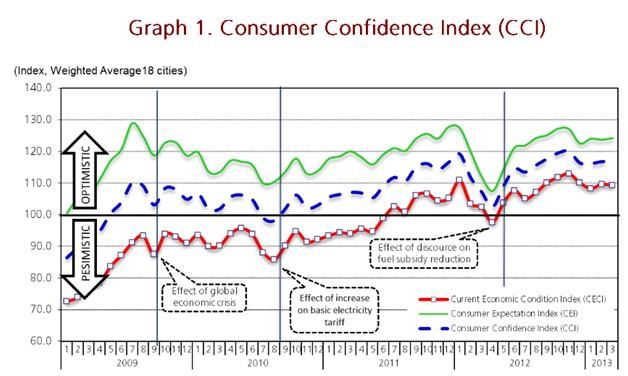 Source: Bank Indonesia (BI), May 2013
Indonesian economy is mainly driven by large youth demographic dividend of whcih 60% of the population is 35 years old or younger and 50% is 29 years old or younger.
Source: Bank Indonesia (BI), May 2013
Foreign exchange rate between Indonesian Rupiah (IDR) and Euro shows stable improvement for the year 2011 and 2012 with average rate of Rp. 12.100 per Euro. The exhange rate against US Dollar is steady for year 2011 and shows a declining trend starting 2012, with average rate of Rp. 9.200 per US$.
Trade and Investment
Slow global economic recovery is the main trigger for lowered overall net export performance. The net export of goods and services contributes negative 1% towards total GDP, net export of goods on the first quarter of 2013 compared to the first quarter of 2012 fell from US$ 322.6 million to negative US$ 2.34 billion.
Top 5 imported commodities are: machinery and mechanical appliance (HS 84), electrical machinery and equipment (HS 85), iron and steel (HS 72), vehicles other than railway or tramway rolling stock (HS 87), and organic chemicals (HS 29).
Top 5 exported commodities are: Mineral Fuels (HS 27), animal or vegetable fats and oils (HS 15), electrical machinery and equipment (HS 85), rubber and articles thereof (HS 40), and machinery and mechanical appliance (HS 84).
Indonesia maintains a trade surplus for non-oil and gas with India, The United States, The European Union, and ASEAN. Otherwise a trade deficit with China, Japan, South Korea, and Australia continue to occur for non-oil and gas trade balance.
Total realized investment for the first quarter of 2013 is US$ 10 billion, increased 30,6% compared to the first quarter of 2012 which makes up for 24% of BKPM investment realization for 2013 of US$ 42 billion. According to The Economist, Indonesia is considered as a country with steady growth, healthy demographic structure, and growing middle inome class that attracts investors.
Government
Fuel consumption and government subsidies are among the most significant factors that contributes to the increasing risk from slower global economic recovery. Last year, the state budget allocated 21.1% for fuel subsidies. Recent policy of plans to reduce fuel subsidies by increasing the subsidized fuel price from Rp. 4,500 to Rp. 6,500 per liter is expected to suppress the deficit in the state budget to 2.48% which is lower than earlier predictions of 3.83% and gives the government more room to breathe. The central government allocated Rp. 12.5 trillion for infrastructure development, education, and poverty allocation. This initiative is supported by Indonesian businesses mainly due to more allocation towards infrastructure projects that helps improve the businesses.
The European Union and Indonesia
The EU plays an important role in the Indonesian economy with an export destination ranked number 3 after Japan and the United States. Trade balance remained positive, despite a decline in figures for the first quarter of 2013 compared to the previous year from US$ 1.4 billion to US$ 507.2 million.
Investment realization from the EU is ranked second after Japan with tripled figures for the first quarter of 2013 compared to the previous year from US$ 361.7 million to US$ 1.05 billion.
Political Situation
According to UNDP Human Development Report 2013, Indonesia performed particularly well in areas such as health and education, as well as innovative social policy and greater economic outreach enchanced the progress.
Indonesia is currently ranked 118 in terms of a country with significant corruption problem according to 2012 Corruption Perception Index. However, major corruption scandals in Indonesia were processed to bring down some high level corruption cases. Despite growing hostility resistance and increased public expectation, KPK (Corruption Eradiction Commission) continues to battle effectively against corruption in Indonesia. Quantitatively, there has been 55 suspects has been convicted by KPK. In terms of qualitative measurement, KPK is handling grand corruption in Indonesia such as Bank Century, Hambalang, and Driver License Test Simulator cases.
Source:
Economic, trade and investment part: European Business Chamber of Commerce in Indonesia (Eurocham) – Indonesia Country Report Q1 2013. May 2013.